All the ways to use INNOluxe!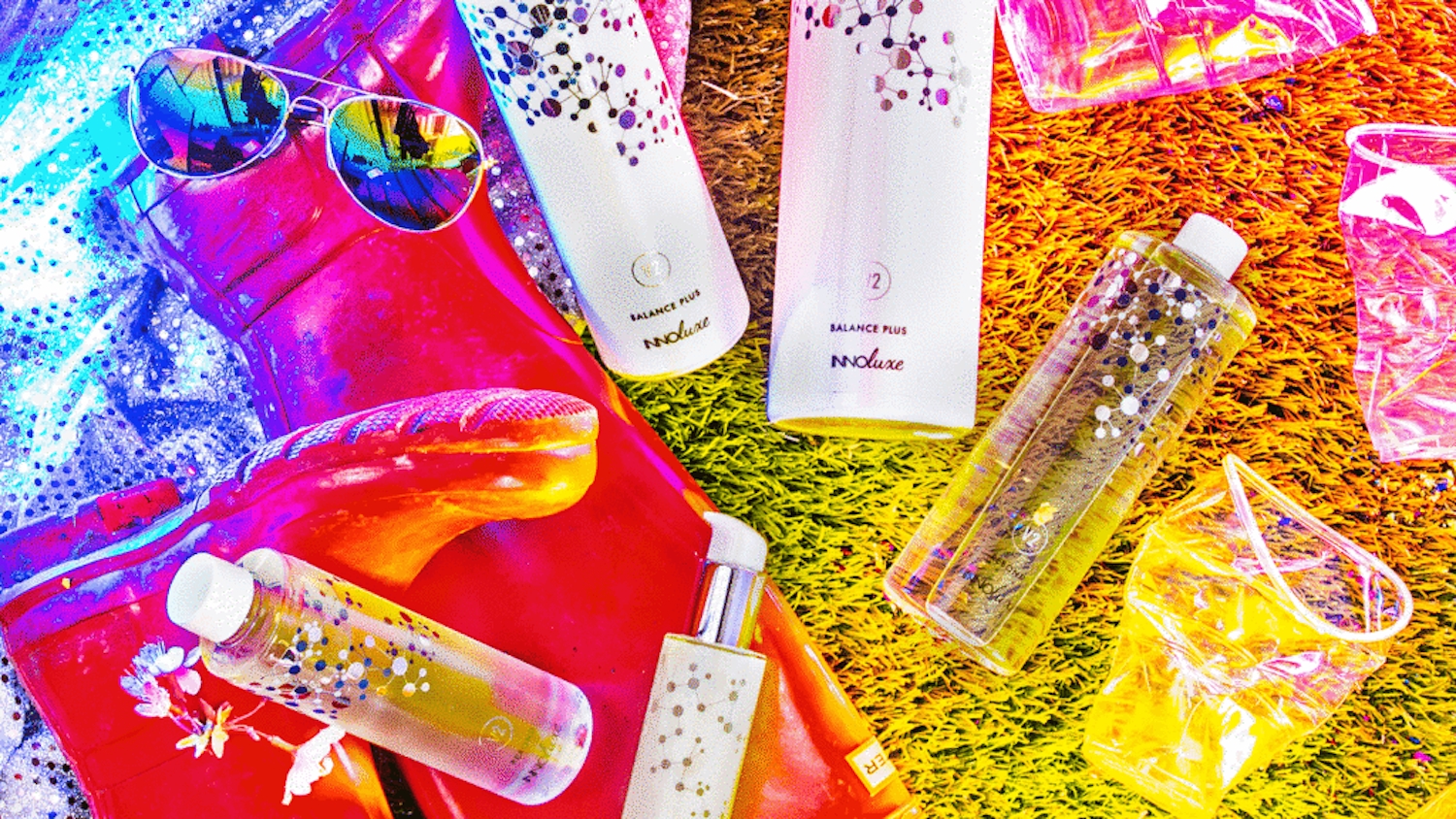 Spoiler: there may be more ways to use INNOluxe than you think…
WE'RE BACK! And oh how we've missed you. It's been a long few months but now that lockdown is easing in the UK (long may that last, right?) and we're all coming out of hibernation, it's time to get back on the blog...
And where better to pick up than with a reminder of all the fabulous ways you can use INNOluxe?
Every brand has its star products – or a favourite way that customers like to use those products. INNOluxe has a strong reputation for protecting and repairing hair during colouring, but how much do you know about ALL the ways you can use our range?
Give yourself a hi-five for each one you already know…

INNOLUXE WITH BLEACH
Duh. Yeah, we know this one is obvious, but we'd be crazy not to say it, so… put INNOluxe in your bleach to protect the hair and repair it as you work. Whether you're taking dark hair lighter than ever on one day, or saying 'yes' to damaged hair that you'd have hesitated to work with in the past - INNOluxe lets you go further.
And did you know... INNOluxe also helps protect the scalp from sensitivity during scalp applications!
INNOLUXE WITH ANY COLOUR
We're best known for adding to bleach during the colouring process, but INNOluxe works really well with ANY kind of colour. From high lift tints to semi-permanents and direct dye colours, INNOluxe works on the hair inside and out for greater strength, greater shine and greater feel.
All that, plus the colours last longer! As INNOluxe can be used repeatedly with all hair colours, salons and clients are really noticing the difference when they use it both in the bleach and when they tone. Neat, right?
INNOLUXE WITH DOUBLE PROCESS COLOURING
Given what we've just said about using INNOluxe when you bleach AND when you tone, this probably doesn't come as such a surprise. But it's definitely worth giving it its own air time!
Way back in the olden days (OK, just a few short years ago), if a client wanted to go light from dark, especially if they'd coloured their hair before, they could only safely go so far in any one visit. Months of appointments and hours in the chair would be needed to get the lift they wanted. INNOluxe changes all that, giving salons the freedom to go much, much further on the same day.
"By mixing ReBond V2 into the colour, and conditioning with Balance Plus V2 once shampooed, the hair is strengthened and protected", explains INNOluxe's founder, Jez Barnett. "This means it's no problem to dry the hair and colour it again".
Hey presto! Bigger colour transformations, healthier hair, happy customers and a successful salon. Brilliant.
INNOLUXE AS A TREATMENT DURING A COLOUR APPLICATION
You know how clients will often book in for a root colour application or for foils? Well, that's the perfect opportunity to pamper the rest of their hair with an INNOluxe treatment while they're with you! Not only do they leave the salon with their colour revived - the health, shine and softness of their whole look will have been given a nourishing boost, too!
INNOLUXE WITH PERMS
Now we're getting technical. Well, we're getting into other, non-colour-related technical services, anyway.
We love curls, but perms, hair health and colour haven't always been the best of friends. Instead, they were a recipe for hair that was damaged by chemical processes, and nobody wants dry, brittle locks.
Add INNOluxe as part of the perm process, though, and it repairs and rebuilds the hair's structure while you work, making it possible to perm even bleached hair! You'll be left with beautifully soft, shiny curls that have structure - tousled curls available for all who want them!
INNOLUXE WITH KERATIN TREATMENTS
You guessed it, it's another technical hair service that doesn't involve colour. Keratin treatments have been a revolution over the last decade. Frizz and weakness are no longer something you have to put up with, as the latest generation keratin treatments can repair and smooth all types of hair. Could it possibly get any better? And if so, how?
Well, pre-treat the hair with INNOluxe, and you'll find your keratin treatment works EVEN better. "Keratin treatments have transformed the lives of so many clients", says Jez. "And now by using INNOluxe first, we can create even greater straightening and repair"!
We like the sound of that.
INNOLUXE WITH RELAXERS
Although we're seeing more and more clients with Afro-Caribbean hair either going for keratin treatments or loving their natural texture, there are still plenty of people choosing relaxers.
They're great at breaking down the hair's structure to chemically straighten the curliest of curls, but the chemicals are strong and they can cause more than their fair share of damage. But adding INNOluxe ReBond V2 to your relaxer will strengthen the hair at the same time as relaxing it.
"Using INNOluxe in relaxers ensures the integrity of the client's hair", says Brenda Charlemagne, a specialist in Afro-Caribbean hair. "We also make sure clients use Elixir V2 at home when they wash their hair… My clients wouldn't relax their hair now without INNOluxe".
INNOLUXE STAND-ALONE TREATMENT
Developed specifically for clients who aren't having colour or another technical service, the Stand-Alone treatment gives hair a nourishing healthy boost, as well as leaving it with that signature INNOluxe strength, shine and softness. Last year's launch of FOAM transformed the experience for Stand-Alone fans, meaning they can get strength, repair and condition with less time than ever spent at the basin.
"The Stand-Alone treatment literally changes the texture of hair and makes it super-sleek and uber-soft!", says CHAIR Salons' Casey Coleman. "The fact that this treatment even makes blow-drying easier is a dream and I don't think we're going to be able to work without offering it to our clients"!
INNOLUXE ELIXIR V2
"Every client has the same concern after any service that gives condition – and that's how long it will last", says INNOluxe brand ambassador Sophia Hilton. "INNOluxe ELIXIR V2 is perfect for keeping the health and condition between services, which puts your client's mind at ease and makes you feel safe that they are looking after it in between your magic".
This unique leave-in treatment is the simplest and most effective way to enjoy INNOluxe at home! Either add a drop or two to wet hair after you wash, then apply your styling product and style away to your heart's content. Or if you prefer, use 3-4 drops on dry hair, leave it overnight and wake up to healthier, stronger hair. The choice is yours. Or, for the greatest and fastest repair, use it both ways!
Elixir V2 can also be used in-salon, building integrity to the hair as you work, even if they've not had a full INNOluxe treatment first.
Be honest, did you get them all?
We know our reputation focuses on using INNOluxe to achieve the bold colours and hair transformations your clients want, but why not branch out and try it in other ways? We reckon you'll love the results.
You can find full instructions on all these methods over in the INNOluxe help centre, and you can buy your professional INNOluxe products here.