Bring curls back to life with INNOluxe!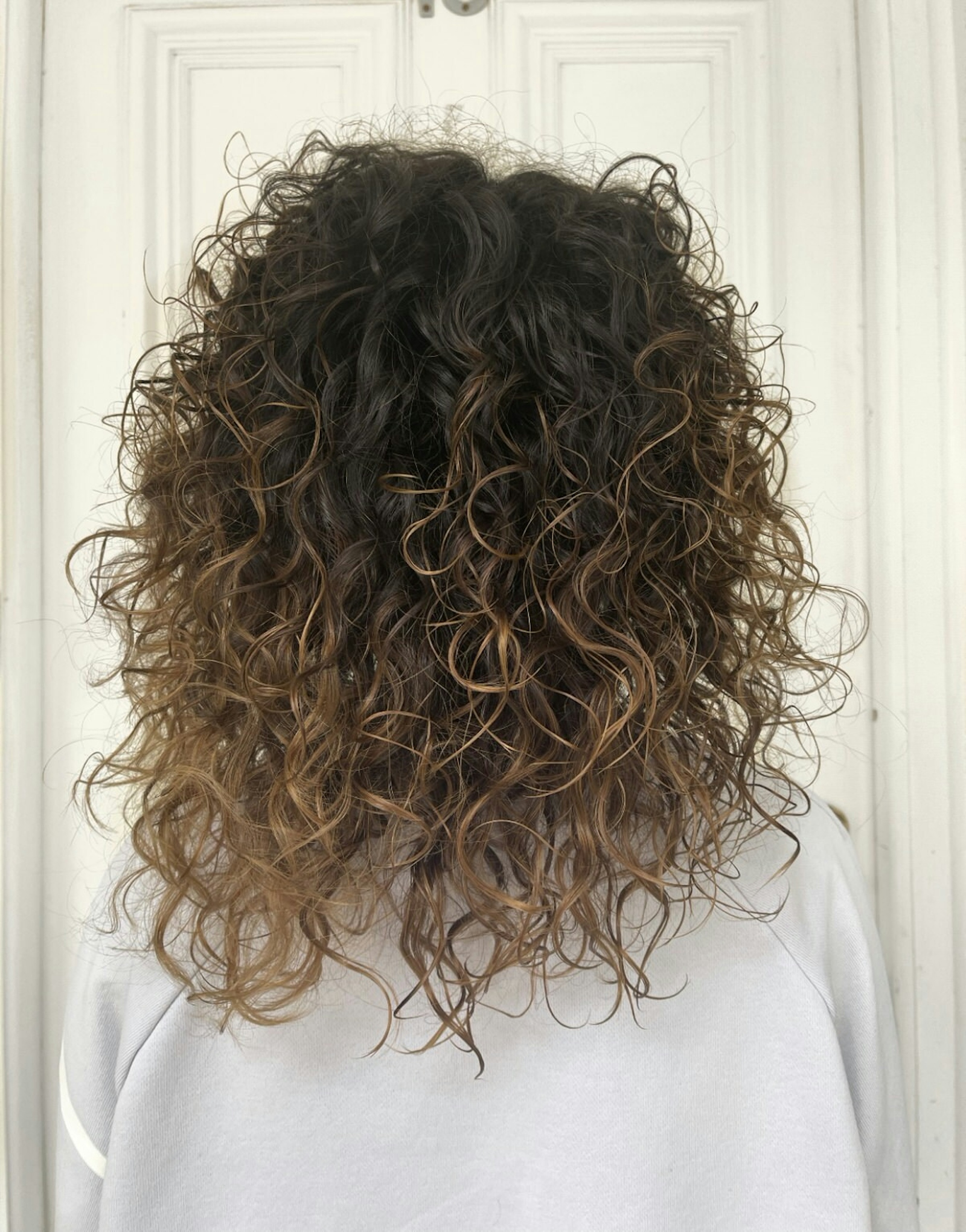 This one's for all the curly girls (and guys!) out there. We know just how tricky it can be to keep your curls er… curly, especially when you colour your hair.
But did you know that, to borrow the words of Kayleigh Dixon, "INNOluxe is a game changer for adding a kick back to curly hair"?
Let's take a closer look at all you need to know about bringing curls back to life with a bounce!

"INNOluxe is a game changer for adding a kick back to curly hair!"
Kayleigh Dixon
Does using colour affect your hair's curl pattern?
Yes, it absolutely can!
"Curly hair is naturally drier and coarser than straight hair" says Chloe Passmore, "and it can become even more so from chemical treatments, especially bleach. Lightening curly hair can result in the curls becoming more relaxed and frizzy."
It's a struggle that Queen of Colour, founder of Not Another Salon (and INNOluxe brand ambassador) Sophia Hilton knows only too well. "With the amount of bleach we use at Not Another Salon, losing the curl pattern isn't uncommon" she says. "We've become really good at educating our clients on what to expect during the bleaching process, and we ensure our clients are completely prepared for that pre-appointment."
So how can you keep curly hair curly when you add colour?
INNOluxe, that's how! We're going to hand over to the pros for a bit now, so they can tell it like it is…
"INNOluxe adds just the right amount of moisture to help the curl to re-form, leaving beautifully shiny and healthy hair" says Georgia Bell.
"You can really see the benefits on curly hair" adds Chloe. "The curls are much tighter and more defined."
"Since we've been using INNOluxe as a curl restorer, we now put the client on a series of Stand-Alone treatments before and after the bleaching service to ensure they'll keep their curl" Sophia tells us. "I have clients DM'ing me late at night, absolutely shocked because their curls have come back for the first time in years... And that's 100% true, no bullshit. I really believe in it."
And finally, here's Kayleigh again (yes, we know you heard the start of this quote earlier, but it's so good we're using it again). "INNOluxe is a game changer for adding a kick back to curly hair" she says. "A Stand-Alone treatment can give curls a new lease of life – you'll literally see them transform from frizzy waves to beautiful, bouncy coils."
Beautiful, bouncy coils! Exactly what we're after. We'll take it!
But how does INNOluxe work its magic on curls?
In short, it's all in our cutting-edge protein technology. "The INNOluxe treatment gives curls the advanced proteins they need to become nourished and more manageable" says Chloe. "The magic of INNOluxe helps to reform the bonds within the hair's structure, and it feels amazing too!"
INNOluxe founder, Jez Barnett, explains more:
"INNOluxe has always been magic with curls, whether with perms or natural. As colour has grown in popularity, fewer people have been able to enjoy their curls as the chemistry of colouring (and especially bleach) was removing a lot of the structure needed for curls to form. INNOluxe's advanced proteins rebuild the hair with strength and flexibility, which is exactly what curls need."
Curious to get a bit deeper into the science of INNOluxe and our protein technology? We've got just the page for you!
Curlier curls from the comfort of your own home
If you're looking for a way to give your curls some INNOluxe love from home, restoring strength, flexibility and curl pattern, Elixir V3 is for you! This leave-in treatment creates permanent repair so you can enjoy the INNOluxe softness, shine and strength - as well as curlier curls - every day. Use it on wet hair as a prep cream or on dry hair as a leave-in treatment.
And pair Elixir V3 with #SAVED Shampoo (free from sodium chloride and sulphates), #SAVED Conditioner and #SAVED Mask for the ultimate in luscious lightweight care for your locks.
We love seeing and hearing how clients are enjoying their curls again thanks to INNOluxe, no matter what colour they choose. Share your story on social with #INNOluxe!