How it works:
Professional toning for blondes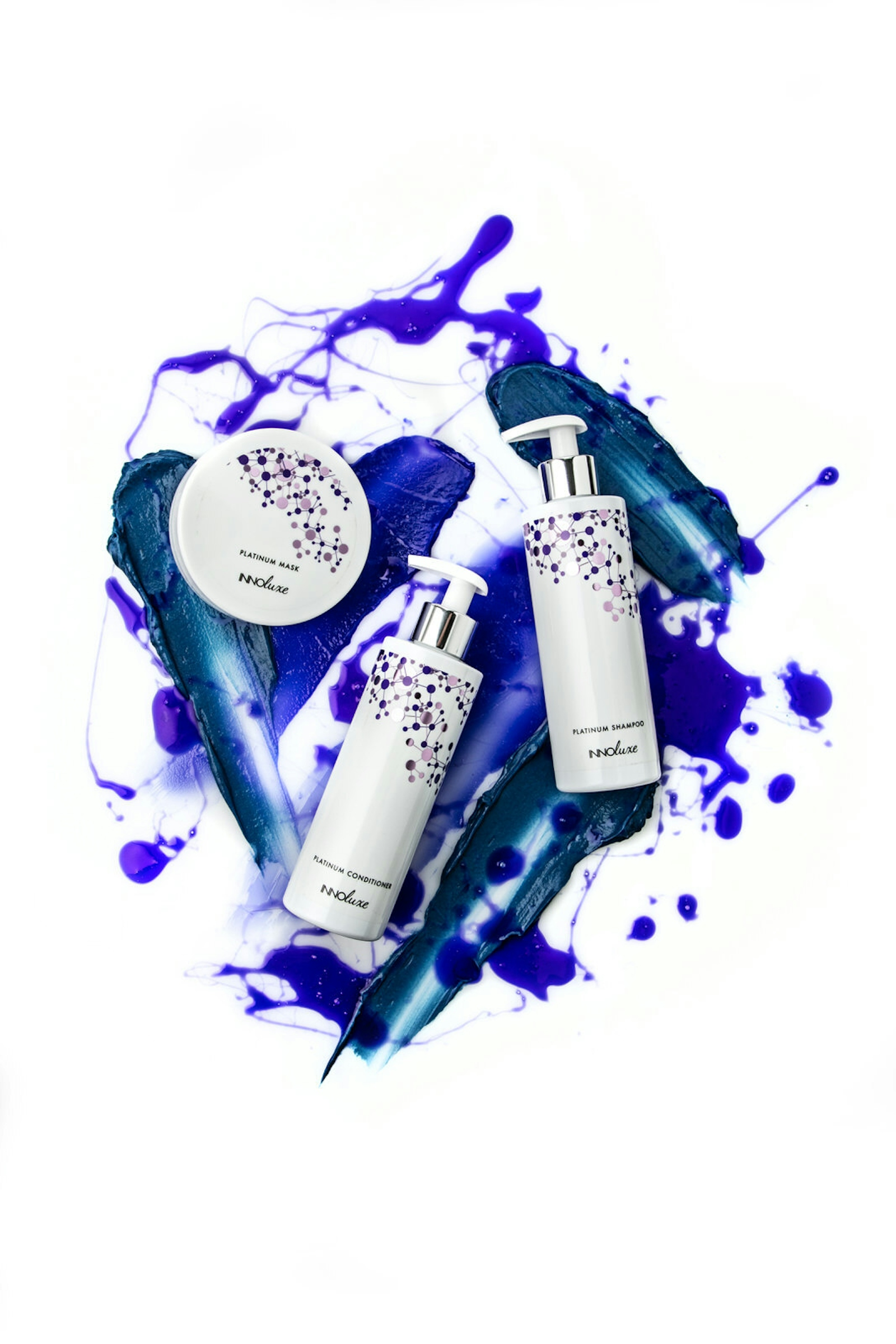 Pros! You know the power of a purple shampoo (and a purple conditioner or toning mask, for that matter), but are you 100% confident on how toning products actually work? Welcome to the inside track on purple shampoos, blue masks, colour theory and more.
The purple pigments… they're intense
The secret to any toning shampoo, conditioner or mask is in the powerful pigments they contain, which work hard at adjusting the hair's colour. To keep it simple, the more intense the pigments, the more impressive the results when they're deposited onto blonde, white or silver hair.
Before we go any further, this is the perfect moment to introduce INNOluxe's answer to neutralising warm tones and adjusting blonde shades: the PLATINUM range.
We've packed this trio with powerful cooling pigments; deep purple in our shampoo, violet in the conditioner, and an intense blue for the mask.
Sophia Hilton, INNOluxe brand ambassador and founder of Not Another Salon, is a huge fan of the PLATINUM range. Its ultra-pigmented formulation worked wonders on her colour when she changed from her trademark canary yellow to unveil a pure platinum blonde.
"I literally didn't even tone my hair when I went blonde", she told us. "I only used the PLATINUM range. And as someone who spent seven years being yellow, that was really impressive."
That's enough about us, though. Back to the learning. Next up: colour theory!
Trust the colour wheel
Whether you're adjusting a new colour to exactly the tone your client wants, or are neutralising yellow or orange 'brassy' tones that are creeping back into coloured hair, the colour wheel is your go-to tool.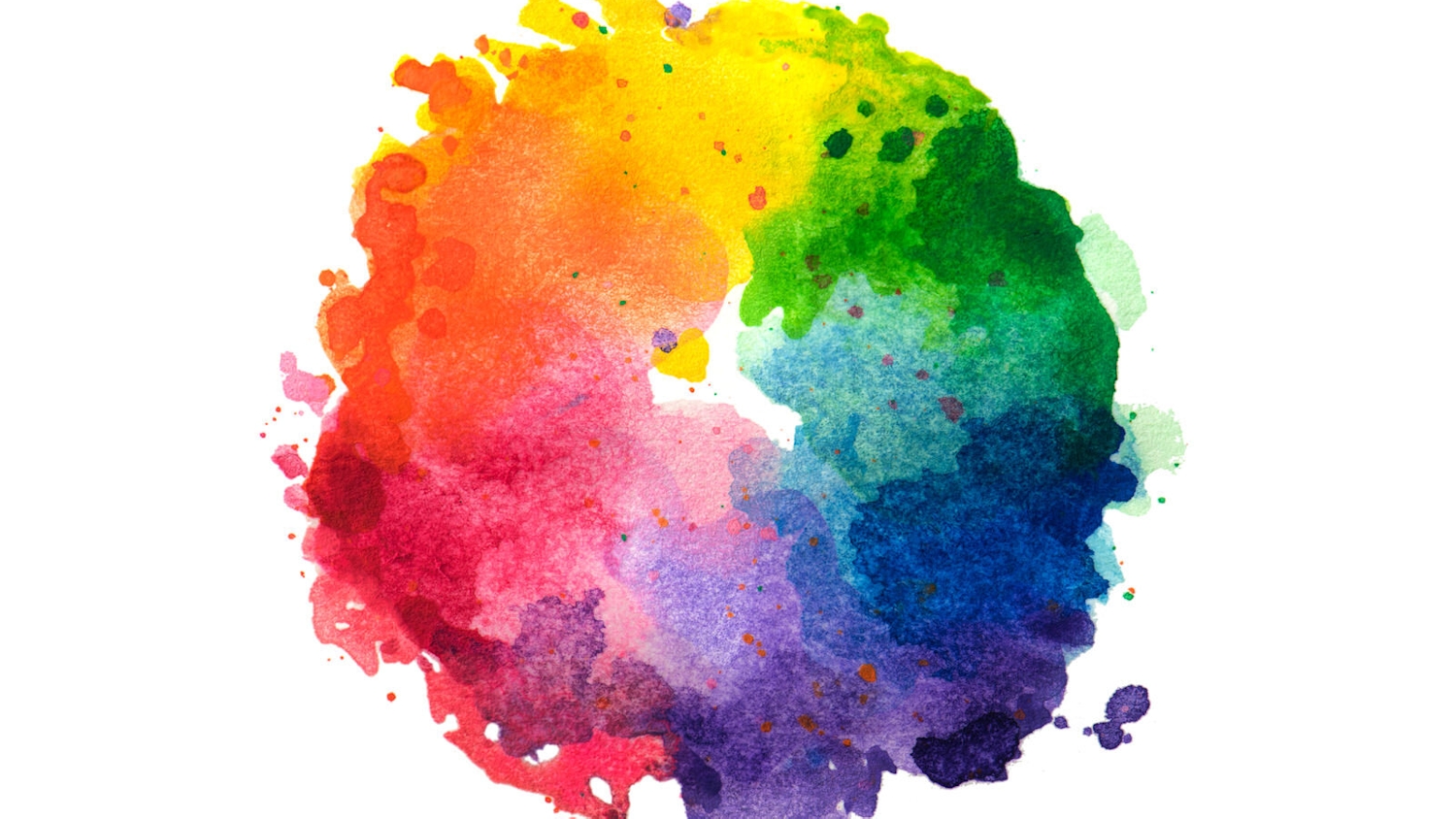 To neutralise or cancel out a colour, you need to use the colour that sits opposite it on the colour wheel. That means that if you're trying to banish yellow tones, you'll need purple pigments. And if you're battling the orange hues, think blue.
Whichever you choose, the pigments will be deposited from the product onto the hair as you use it, neutralising and adjusting the colour. And while shampoos are primarily designed to cleanse, keep in mind that conditioners and masks are designed to deposit ingredients into the hair (think moisture, hydration and nourishment). That's why you may find that conditioners and masks are quicker than shampoos at getting results (especially if you leave them for several minutes before rinsing).
But why do brassy shades reappear in blonde hair in the first place?
If your client's hair has been lifted several shades from its natural colour, it won't take long for pigments from the darker, natural tone to start showing through. That's down to a combination of factors such as sun exposure, chemicals like chlorine, air pollution and even the minerals in the water they wash their hair in. Their choice of shampoo and other products, and the amount of heat styling clients choose, will also have an impact.
OK but don't toning shampoos and other products leave hair feeling dry and dull?
You're right, some do, and that's especially worrying given that bleached hair can dry out easily. That's why, with INNOluxe, we were determined to pack the PLATINUM range full of super-nourishing ingredients as well as super-powerful pigments.
As well as purple pigments, PLATINUM Shampoo contains soybean, glycerin, vitamin B5 and betaine to strengthen, hydrate and add shine to your locks. And this is a gentle cleanse, free from sulphates and sodium chloride (salt).
PLATINUM Conditioner blends camelina, olus and rice bran oil with murumuru and capuacu butters into a sublimely lightweight nourishing treat.
And PLATINUM Mask is formulated with argan oil, wheat proteins, murumuru and capuacu butters to condition, nourish and hydrate.
"I was so sick of recommending purple shampoo to my clients and knowing that it wouldn't take care of their hair" says Sophia. "The PLATINUM range is the first time that I've been confident that I can keep my clients' hair in good condition while also keeping the tone."
You heard the lady (Queen of Colour, as we like to call her).