"I Really Felt Like I Was In The World Of Conveyor-belt Hairdressing…" Meet Natalie Ewens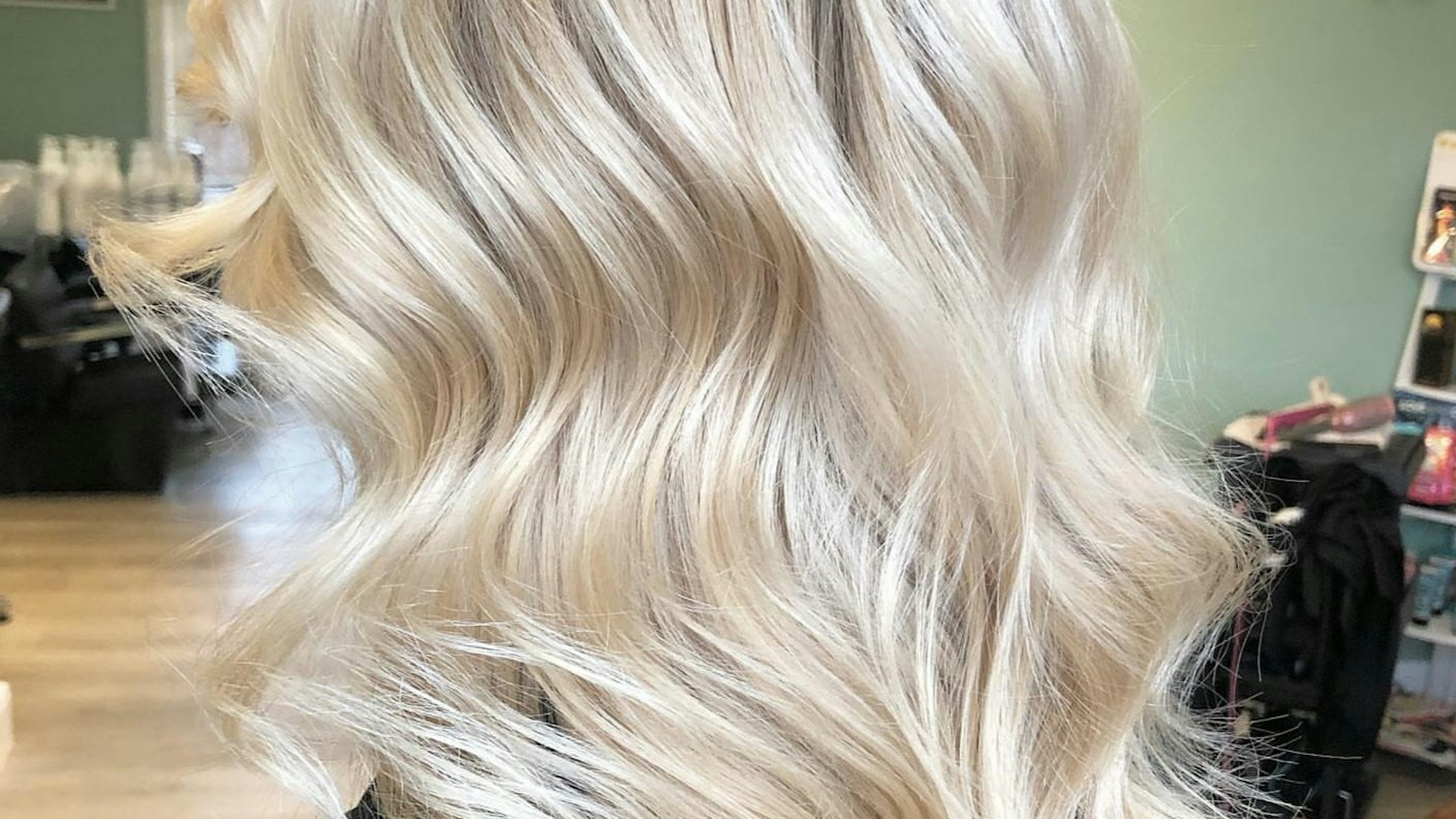 Salons might be closed right now but that doesn't mean we can't still show them some love during lockdown!
Before all the current restrictions kicked in, we spoke to Natalie Ewens about putting her customers first, building a mini-salon from her parents' spare room, and the 2020 hair trend she can't wait to see the back of.
Natalie is the owner of Natalie Ewens Hair in Chichester, West Sussex. The salon opened just outside the town centre in early 2017 and now has three stylists cutting hair, as well as a beauty and tanning salon upstairs which is run by Natalie's sister.
Hey Natalie, thanks for finding the time to chat! First up, we've asked you to talk us through a look you've created using INNOluxe. What did you pick?
I chose this look for our client Isobel because I feel it's just so on-trend at the moment. It's a high balayage, it's super blonde and – thanks to INNOluxe – it's super healthy.
It's beautiful! How did you create it?
First, we used 7 levels lift lightener + 20vol, adding INNOluxe ReBond V2 to achieve the colour and keep the hair in condition. We used a balayage technique, taking fine sections throughout for even coverage and saturation, but taking thicker sections around the top to create dimension and allow the natural colour to peep through. This way, we can create a low-maintenance look for our client (the best thing about balayage is you don't have to come back every 6 weeks for your roots!).
We left it all to develop for 45 minutes before rinsing, toning with 9.21 5 vol and applying INNOluxe Balance Plus V2. We left that for ten minutes and then, before blow-drying, we applied INNOluxe Elixir V2 – our FAVOURITE hair product yet.
Isobel left the salon very happy, and totally delighted with the lift we'd managed to achieve!
We're so happy that INNOluxe is helping you say 'yes' to the looks your clients ask for!
It is! We now add INNOluxe to every hair colour service because it means we can achieve hair colours we haven't been able to before, and those colours are so clean and shiny. Our clients ask for it again and again.
It looks and sounds like you've built a brilliant salon there – tell us how you got where you are today?
Well, a lot of it is down to starting my career in busy salons with unrealistic appointment times. I really felt like I was in the world of 'conveyor-belt' hairdressing and I wanted to offer my clients more of a luxury service, focusing more on their hair needs than the amount of money I was bringing through the door… So, I packed up my kit and left my salon job, much to my mum's disappointment – I can still hear her telling me "you should never leave a job without having another one set up"!
It seems like things turned out pretty well, though? Although we're guessing there was a lot of hard work along the way…
Definitely! At first I set up a mobile hairdressing business. It did well, but I found that my clients missed going out to get their hair done. I wanted to have my own successful salon one day, but I just wasn't ready at that time. Instead, I set up a little salon from my parents' spare room with a couple of styling sections and a washbasin. I worked there for two years before I was ready to set up the salon I have now – and the rest is history!
Good for you! It's all about tenacity and focusing on what you want, isn't it? So, what's next for Natalie Ewens?!
We're about to change colour brands, which I'm super excited about! We want to always stay on trend and be able to give our clients what they want so that we can grow individually and keep growing the business.
Ooh exciting! So what do you predict will be massive in the world of hair colour next year? What colours will you be creating with your new brand? And any particular cuts to go with them?
I reckon it'll still be balayage (of course!) because it's the perfect colour technique for every client – BUT I feel like it'll be toned down a lot. I also think we'll see more blorange appearing – those gorgeous copper tones! And the collarbone/shoulder-grazing cut will still be very much in!
And finally, we're going to leave you with a round of quick-fire questions…
Vivid or tint? Tint.
Tea or coffee? 100% tea – as many cups as poss in a day!
Styling hair or having your hair styled? Styling hair
Which hair trend would you like to see the back of in 2020? Silver hair! Everyone wants it but no one wants the upkeep... silver hair BE GONE.
Any tips or tricks for a bad hair day? They happen to the best of us…A slick high pony or a tousled hair down look, adding a sparkly hairband is the way forward.
If you hadn't worked in the hair industry, you'd have… been an interior designer.
Describe your salon in three words? Motivated, professional and current!
Thanks Natalie! Go and grab another cuppa, after all the questions we've thrown at you we're sure you need it…
Showing salons some love is more important than ever during lockdown. You can connect with Natalie over on Instagram and Facebook.