Spotlight on… The Colour Lounge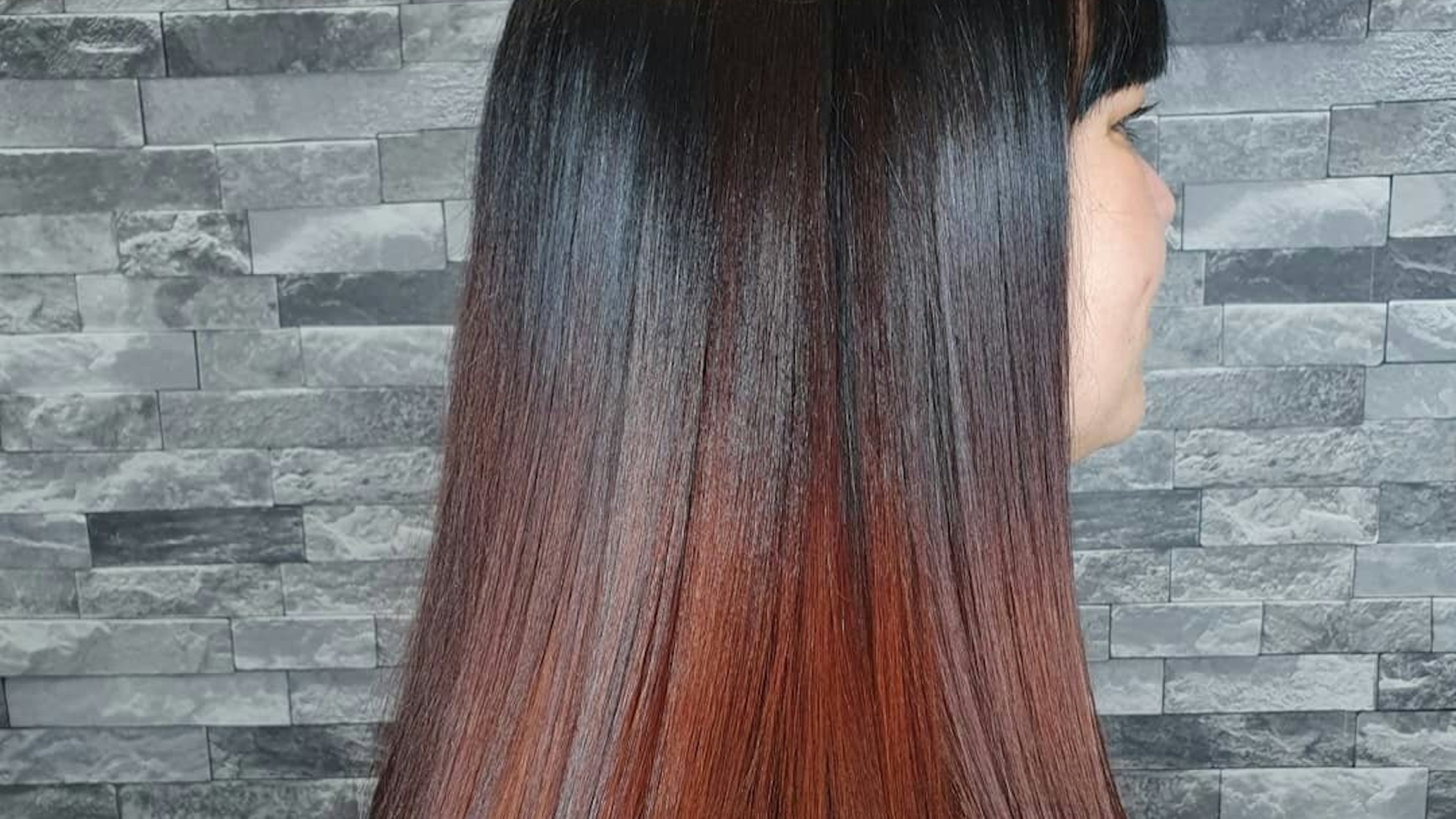 This month we're all the way down at Launceston in glorious Cornwall, catching up with Lisa at The Colour Lounge.
Hi Lisa, thanks for chatting with us! We asked you to share a story of how you've #SAVED a client's hair with INNOluxe. We can't wait to hear about what you've picked!
Well, Claire came to us wanting to lighten her hair after years of black box dyes. We took a couple of strand tests during the consultation and, to be honest, nothing was budging much…
We didn't want to be beaten, though. We were sure INNOluxe could help us lighten AND keep the hairs' integrity – we didn't promise we could lighten it too much, but surely something would move!
There's nothing quite like a challenge! So what did you do? We're guessing you didn't give up?
Well, we agreed on an ombré as the best place to start. After the first application of lightener (with INNOluxe, of course), the colour change was minimal, but it gave us hope. And importantly, the hair was still in perfect condition!
Next, we washed and reapplied another lightener with more INNOluxe, and this time we got some movement of colour and it started to lighten. Claire didn't want to go too light (just not black!) so this was all we needed.
Result! On with the colour…
Yes! We added a copper toner with INNOluxe and then completed the treatment, finishing with Elixir V2 to make it last. The shine's incredible, the condition is amazing and there's no damage to the hair whatsoever. It's a beautiful look and the shine is out of this world!
It certainly sounds like you know your colour, which you'd kind of expect given your business name! It also sounds like you've got it sorted on the whole 'loving your job' front?
Yes, we love our job so much! We opened in spring 2019 and we're SO happy and proud to be (mostly) a colour salon. The feedback from our clients has been amazing. We've managed to create an atmosphere that's warm, friendly, professional and relaxing. Our clients can see how happy we are and that rubs off on them!
And what's this we hear about the special chairs..?
Haha, we have electric reclining chairs! We're all about client satisfaction, and our chairs are the biggest talking point amongst our clients – the icing on the cake.

They sound epic. We might need to find out more about those… Surely it can't all be plain sailing, though? Please tell us there's something that you find tricky about your work?

Of course. I think we find our biggest challenges as colourists are unrealistic expectations. People just don't understand or believe that you sometimes can't get them to the colour they want in one appointment (if ever). Social media is wonderful in some ways but all the edited and filtered photos aren't helpful!

And how did you come to find INNOluxe?
I've done courses with Not Another Salon, so when we opened our own salon, INNOluxe was the obvious choice to complement our colours. We love using it in our colours, as well as using Elixir V2 – and we're now using Platinum Shampoo and Conditioner, too. The condition we get with INNOluxe is amazing and clients love the softness, the smoothness and the shine.
And finally, what's next for you and the team?
Well, we're always training and looking to improve our skills! Since opening, we've already had Ben Brown in to do 1:1 cutting with Lisa, and we've got the fabulous Georgia Bell lined up to give the whole salon two days of colour training (can't wait). We always strive to stay up-to-date and education is at the top of our list.
Thanks for finding the time for us Lisa – it sounds like the salon is going from strength to strength!