Warm Cinnamon Balayage: Style Of The Month, From Kaboodles Hairdressing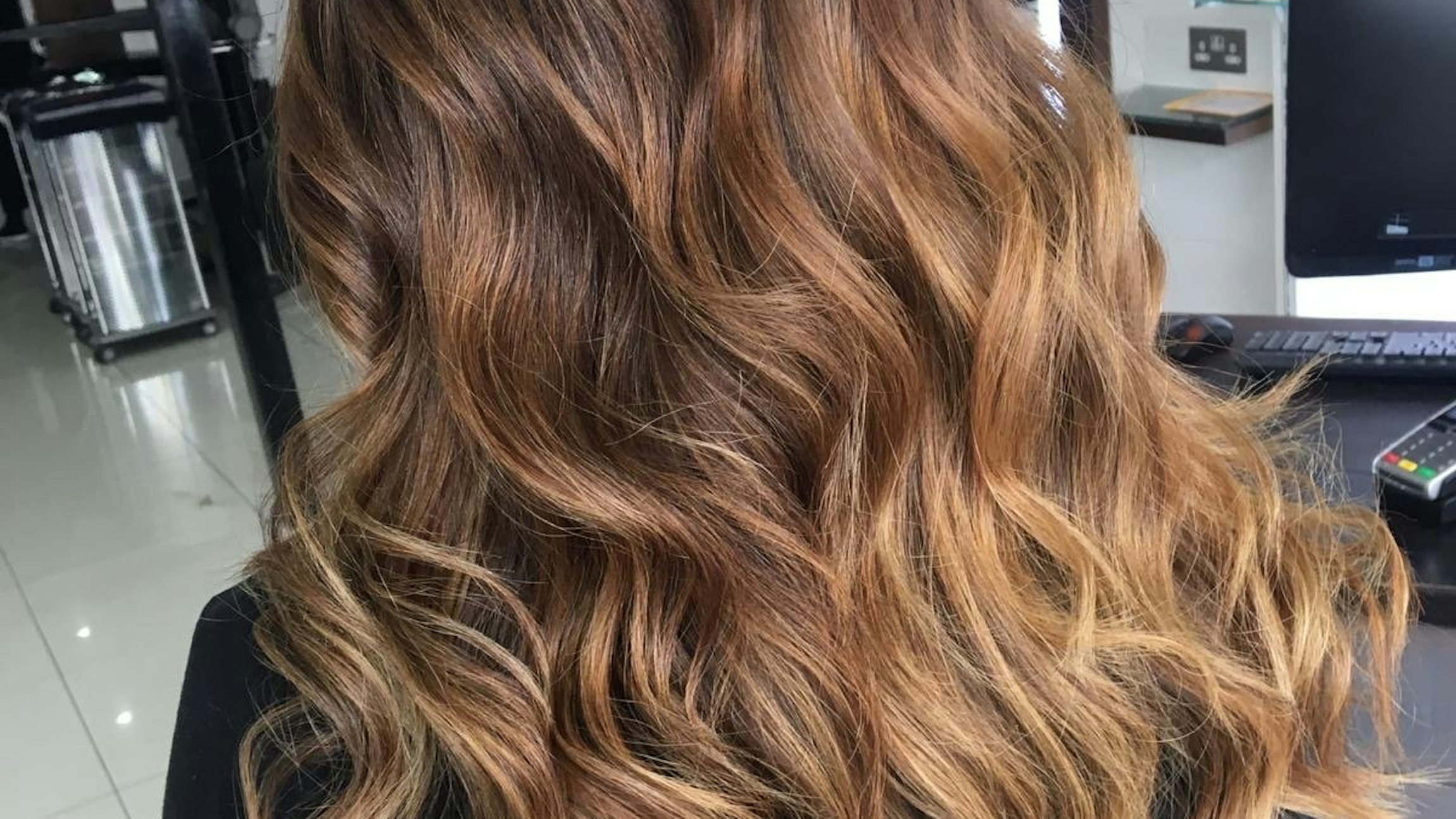 This month we spoke to Chloë Dickison from Kaboodles Hairdressing in Torquay. Kaboodles has been a fixture in the South West for decades (since 1979 in fact!) and is now one of the area's leading salons. They pride themselves on being an eco-salon, with a firm focus on biodegradable and recyclable products, and mindful of energy and their carbon footprint. All that, plus they give their clients a properly luxuriant experience. We're impressed.
Chloë has worked in hairdressing since she was just 15. She joined at Kaboodles four years ago as an apprentice and has now worked her way up to Senior Stylist and Balayage Specialist. We get the feeling she won't be stopping there…
Hey Chloë! Tell us a bit more about Kaboodles – you've been there for a few years now?
That's right. Kaboodles is a salon that's all about education and learning, which is really important to me. I trained through their in-house training academy, Ellipse Education, and we have a team training afternoon every month. That makes sure we're continually evolving, keeping up-to-date and growing our skills. I want to keep learning, keep transforming dull lifeless hair into strong, luxurious locks and keep educating clients about INNOluxe!
Well if your balayage skills are anything to go by you've definitely got the skills! Tell us about the look you've picked to share with us?
Well, this is a rich, warm, glossy, cinnamon balayage that I created for one of my clients who hadn't had her hair coloured for years. She was tired of feeling like her hair was dark and dull, and she wanted to add something extra to her style. We paired the balayage with a loose, undone wave for a look that suited her perfectly!
Once we'd finished she was absolutely over the moon! Her hair complimented everything about her, the tone was perfect against her skin, and the condition was better than ever. She was amazed that I'd used bleach to lighten her hair as (thanks to INNOluxe) it felt so healthy and silky soft.
It's gorgeous! Talk us through how you achieved it?
I started off with a root drag to blend the root colour down, and then I used a freehand balayage technique to get that perfectly soft, natural blend throughout her hair. I used ReBond V2 in the colour, and I mix it with the bleach to be like a paste, which I find is the perfect consistency for balayage. I always ask my clients how high they'd like the balayage to reach and in this case, I painted the bleach higher around the client's face.
After leaving the colour to develop, it was time to tone (with more ReBond V2!). I wanted to keep the caramel colour so I only flattened some of the warmth. I added Balance Plus V2, and once that had done its work and been rinsed off, I got styling. I used Elixir V2 to help smooth the hair – and this has to be my favourite INNOluxe product. A little goes such a long way, it's super easy to apply and the results are incredible – the hair feels healthier, softer and has that Instagram-ready shine!
We LOVE that you love INNOluxe! What is it in particular that makes you and your clients such fans?
I just can't recommend INNOluxe enough! The products are super lightweight but give just the right amount of nourishment. I'm always reminding clients that the benefits aren't just for those using a colour service – the Stand-Alone treatment is the perfect revitalising hit for tired, dry, or heat-treated hair, too.
I absolutely love the way INNOluxe strengthens and repairs hair and the results speak for themselves. My clients leave the salon feeling totally incredible with their glossy, healthy new hair, and that is so important.
Yes! It's so important that the client loves how their hair feels, as well as it being healthy on the inside. We guess you've seen your share of damaged hair in your time?
Definitely. I had one client who came to me after constantly box dying her hair, trying to go lighter and lighter. She was shocked when we told her that the back of her hair had actually broken off in different areas – she hadn't realised. I reassured her that we could fix the damage, though, and we started off with an INNOluxe Stand-Alone treatment.
The change was instantly noticeable and she told me her hair had never felt so good! INNOluxe had got to work repairing her hair straight away, and soon we could start the colour process, toning her blonde down to a softer blonde. INNOluxe definitely saved her hair and she's now an INNOluxe addict!
And finally… it's obvious that you love your job! Can you sum up the magic of it all in a couple of sentences?
Yes! I absolutely love meeting new people and helping them achieve their hair goals. My number one priority is for my client to love their hair and want to show it off, knowing it feels and looks the best it possibly can.
That's a pretty perfect way of putting it Chloë! Thanks for finding the time to talk to us between balayages…
Follow Chloë on Instagram at @Chloedickison_hair, and find out more about Kaboodles @Kaboodleshairdressing.