BlueHairDontCare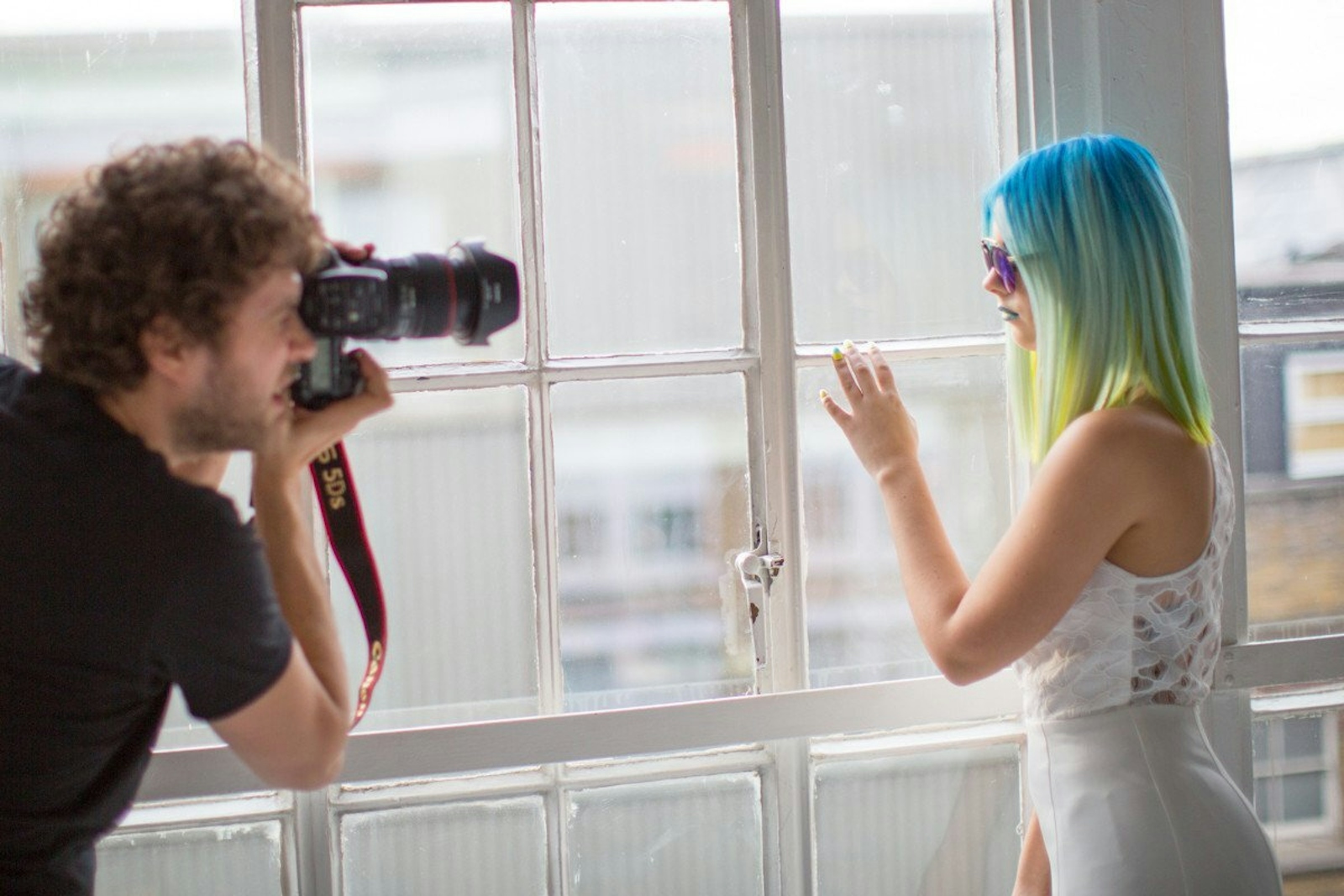 Pinterest's announced the top three Beauty colours as searched for by us scrolling millennials. Taking the first place podium is Blue; we're obsessing over all things blue liner, indigo lips and navy nails. These Beauty counter products are easy to add and subtract to everyday looks without too much commitment, but how does Blue fit into our world of hair?
Is it possible to obtain and maintain this tone without a glam squad? There's usually three hurdles that enter our minds when considering a significant colour change; is it possible with my hair colour/type, does it fit with my lifestyle and will I spend hours on maintenance afterwards? What if INNOluxe could counteract each of these factors and enabling everyone to achieve the most intense of colours?
First things first, there's no hiding the fact that Blue hair was notoriously difficult to achieve; especially if you have dark or damaged hair. It's also infamous for fading at quite a rate, INNOluxe founder Jez Barnett explains why:
"It's alway been tricky to create and hold blue in the hair as it's essential to remove so much pigment; any warmth in the hair can affect the blue, turning it green. Removing that amount of yellow would usually create massive damage meaning the blue colour would fade exceptionally quickly."
With INNOluxe's innovative, ground-breaking repair technology it's now possible to strengthen the hair while bleaching. Stronger hair enables your stylist to take your chosen shade of blue to a much higher level. And also, maintain your hair's colour since the bonds are healthier and stronger when colouring with INNOluxe. Essentially, all negative presumptions that have crossed our minds when debating taking the plunge to blue hair can now be eliminated with INNOluxe. For the ingredient savvy 'Beauty Junkies', how does it work?
"INNOluxe contains Advanced AminoBond Technology, a compound with multiple levels of low weight proteins that feed the hair with strength, rebuilding the internal structure during the colouring process. INNOluxe can be used multiple times during an extensive dye session, layering the benefits and creating consistent repair."

Jez Barnett, founder of INNOluxe.
Secondly, when debating a significant colour change for the first time, it's common to experience 'will-I-be-exiled-by-the-office' anxiety; it's a thing! Sophia Hilton, INNOluxe ambassador and founder of Not Another Salon gives her top tips on rocking bold colour in even the most corporate of environments:
"Creating these looks for clients is not only about the colour service but educating customers on how to wear them. How do you wear 'unnatural' colours in the workplace? Ok, so we get there are some jobs where you'll never be able to have emerald hair. But there're a lot of jobs out there, that with a bit of thought, you can totally pull it off. And this is how.

Firstly, your colour needs to be immaculate, healthy and expensive looking. You need to look like you are committed, invested and professional.

Secondly, you need to style your hair with perfect polish. However you decide to style it, it MUST look like you've put time into it. Stay away from a grunge texture and focus on looking well presented.

Thirdly, stay smart with your clothes and overcompensate a little with clean makeup. The final tip is to wear it proudly. After all, you had the balls, so basically, you rock."
Lastly, maintenance, the trickiest part as it's now it's all down to you. INNOluxe is once again your saviour; minimise colour fade by using INNOluxe to rebuild the hair's structure. By using just 1-2 drops of the INNOluxe Elixir after every shampoo and condition the in salon INNOluxe treatment is re-enforced maximising colour longevity. Jez Barnett gives his expert advice on post-colouring aftercare:
"INNOluxe Elixir is perfect for prolonging colour at home as it continues to reinforce the hair's structure with every use. The INNOluxe stand-alone treatment can be applied at any time and repeated every couple of weeks. This repeated treatment will re-invest multiple layers of low weight proteins which will maximise longevity".
So there you have it, go forth and choose your shade!