Colour correction for cool blondes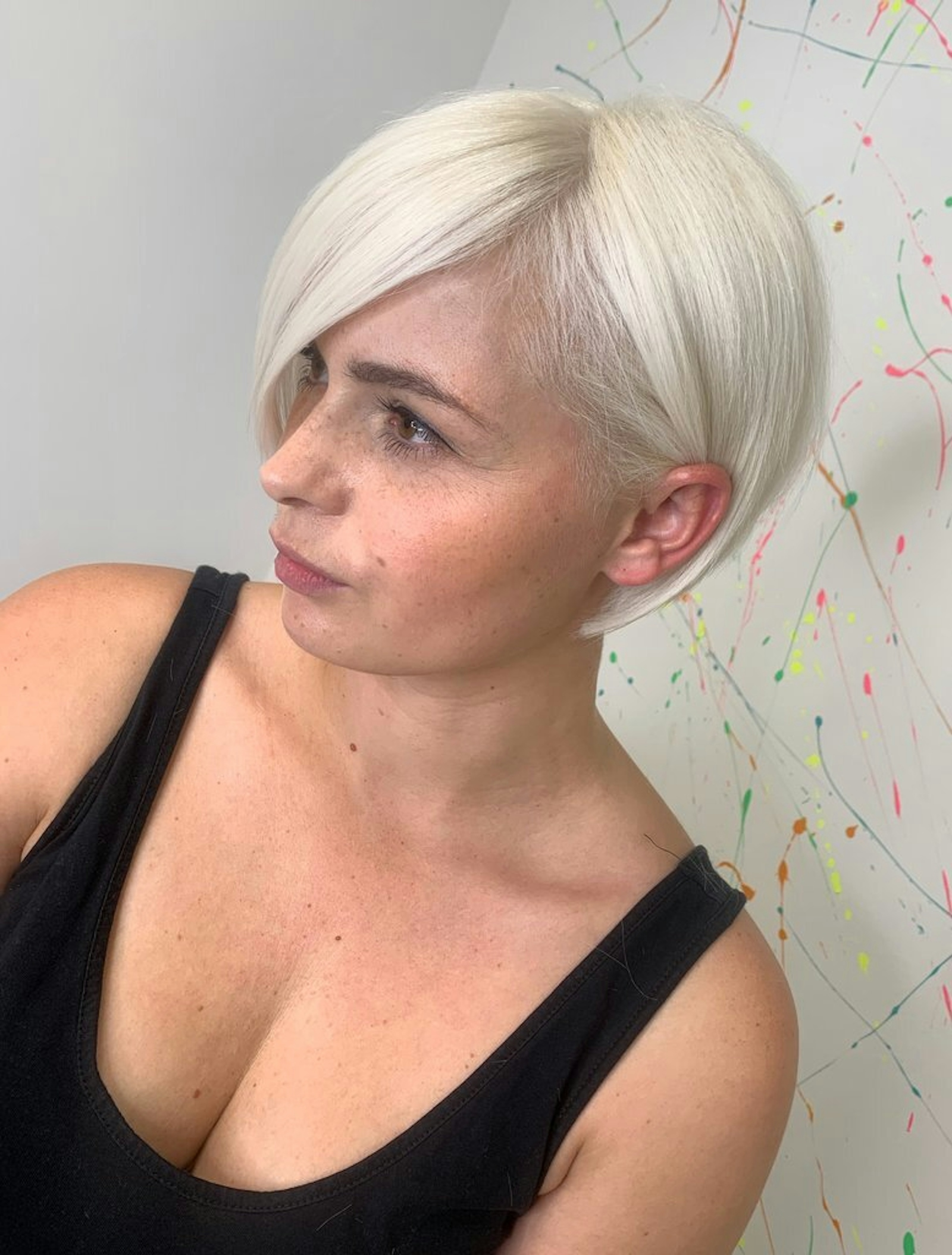 White hot, super cool… ultra-clean ice blonde hair is back.
And that means it's time for a little revision session on all things colour correction, toning, purple shampoos and more. If you have bright white bleached or highlighted hair, this one's for you…
Nordic ice blonde is one of our picks for AW20 hair trends and it's a colour that needs to look absolutely impeccable if it's going to turn heads. There's plenty that can go wrong if you're not careful, from damage caused during the lightening process to poor condition (thanks winter weather) making your hair look a bit sad. But one of the biggest risks with white blonde hair is the return of those unwelcome brassy tones.
Now, if you know INNOluxe, you'll know that it's a total no-brainer to insist that your colourist includes our bond-builder treatment when you first go ice blonde. It'll help protect and repair your hair, and it'll leave it feeling silky soft and shiny.
Hopefully you also know just what a superstar Elixir V2 is when it comes to a day-to-day leave-in treatment you can use at home to make that shine and luxury softness last.
But you might be less familiar with small miracles that colour-correcting and toning products can quietly work for you while you maintain your look between appointments at home. And with the UK facing another lockdown, the more you can do for your colour from home the better, right?
So, is this just about purple shampoo?
Purple shampoo is part of a bigger story, but as you've mentioned it, we'll start there.
Purple shampoo is a type of 'toning shampoo', which helps to adjust or neutralise certain tones in your hair – in this case, yellow and orange 'brassy' tones.
At INNOluxe, we've formulated Platinum Shampoo with intense purple tones that work hard to keep your blonde chilled. And while most purple shampoos are good at toning, they often leave hair feeling dry, dull and down in the dumps. That's why we've made sure that our Platinum range is packed with goodness that leaves your hair feeling luxuriously soft, super healthy and looking shiny.
It's not just about shampoo, either. Platinum Conditioner is a gorgeous violet shade, and Platinum Mask channels deep blue tones to neutralise orange hues, too. "INNOluxe's Platinum range is my go-to", says Becky Sutherland. "This is gold in a bottle it keeps the blondes blonde".
A quick lesson in colour theory
If you're wondering "why purple and blue?" think back to the colour wheel from school art classes. Colourists use this A WHOLE LOT in their work. The idea is that if you want to cancel out or neutralise one colour in the hair, you need to add a bit of the colour that sits opposite it on the wheel. If you're trying to banish yellow tones, that means purple pigments in your products. And for orange tones, think blue.
And are toning shampoos always purple?
In short, no. Purple shampoo is probably the best known of the bunch, but toning shampoos can be any colour of shampoo that uses pigments to enhance your colour in some way.
But why do those brassy shades reappear in cool blondes in the first place?
We hear you. You leave the salon after your colour appointment with the clean bright white blonde you were after, but before you know it, warmer tones are showing up to test your cool. Once your hair's been lifted several shades from your natural colour, it doesn't take long for the pigments from your darker, natural tone to start to make themselves known again.
The further you've lifted from your natural colour, the more help you'll need. Brenda Charlemagne, specialist in Afro-Caribbean hair, says "as Afro-Caribbean hair is often so dark, it can be really difficult to get the lift needed for a clean cool blonde. Using the INNOluxe Platinum range makes it so easy to take out that yellow after using bleach".
And the reappearance of warmer tones can also be egged on by chemicals like chlorine, air pollution, UV from sunlight and even minerals in the water you wash your hair in.
The platinum range does more than just neutralise warm tones
Although it's designed specifically for blondes looking to cool off yellow and orange pigments in their hair, we know you need more than just that from your favourite homecare products.
Platinum Shampoo also gently cleanses and we've included soybean, glycerin, vitamin B5 and betaine to strengthen, hydrate and add shine to your locks.
Platinum Conditioner blends camelina, olus and rice bran oil with murumuru and capuacu butters into a sublimely lightweight nourishing treat.
And the cherry on the cake is Platinum Mask, formulated with argan oil, wheat proteins, murumuru and capuacu butters to seal all that goodness into the hair.