Hair Colour Inspo: Pantone Colour Of The Year 2020: Classic Blue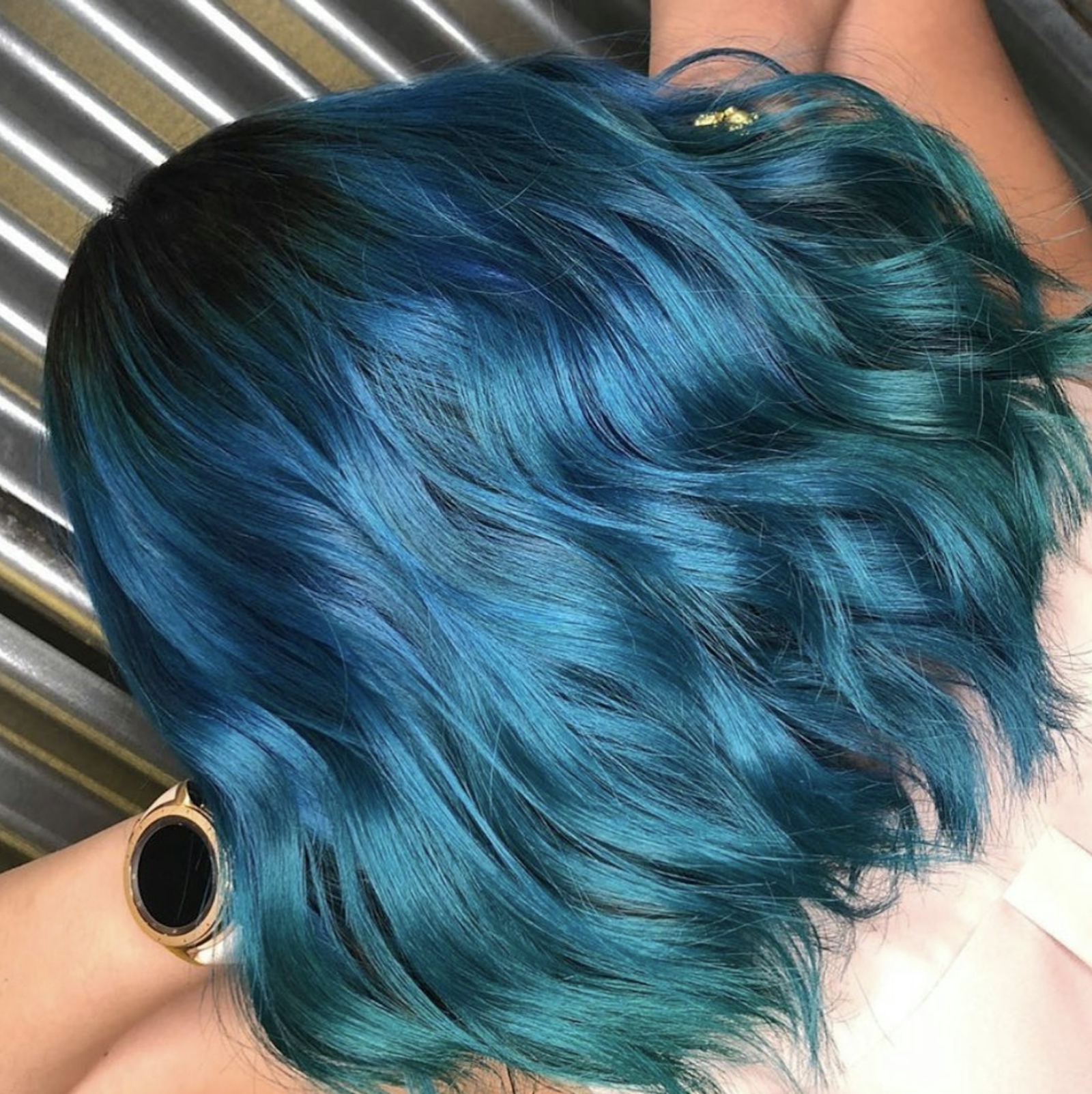 "Instilling calm, confidence, and connection, this enduring blue hue highlights our desire for a dependable and stable foundation on which to build as we cross the threshold into a new era."
PANTONE.COM
Calm? Dependable? Stable?
Blue is a timeless, elegant and traditional choice in the world of fashion, design and interiors, but when it comes to hair? Not so much.
Blue hair shouts "look at me"! It's a bold choice and one that makes a statement.
That's why we're really excited to introduce Pantone's Colour of the Year 2020. Classic Blue is somewhere between a bright royal blue and a darker navy. Either way you look at it, it's more than reminiscent of school uniforms (for me, at least). But that's before you think about it as a hair colour.
Here's the INNOluxe take on all things blue hair.
Blue Hair is a Bold Statement
Yes, it can be (it's definitely not a natural look!), but a darker tone like Classic Blue is a more subtle choice than its mermaid-inspired lighter and brighter cousins. It might be a bit more office-friendly, too (keep reading to see what our brand ambassador Sophia Hilton has to say about that!).
Classic Blue is the Pantone pick, but there are plenty of variations you can play with, too. From pale, icy blue-grey hues to dark navy and midnight tones, via all those greeny-blue shades (teal, turquoise anyone?).
A simple search for pictures of Billie Eilish will serve up plenty of options on the blue spectrum! Which leads us nicely to…
Blue Hair is a Commitment
Billie seems to have learnt this the hard way, telling reporters that one of the reasons she stuck with it so long was thanks to the permanent dye that was used.
Blue tends to stick in hair, so you have to be sure you're up for the challenge – it's not an easy one to work with as a temporary colour. Once it fades, your options will be limited by the tone that's left behind, so plan for how you'll fade it out over the months.
Blue Hair isn't the Easiest Colour to Pull off
"It's hard to achieve and it can fade quicker than you'd like." INNOluxe founder Jez Barnett explains:
"It's always been tricky to create and hold blue in the hair as it's essential to remove so much pigment; any warmth in the hair can affect the blue, turning it green. Removing that amount of yellow used to create massive damage meaning the blue colour would fade exceptionally quickly."

For colour-seekers with darker or damaged hair, the process of lifting your colour before going blue could be even riskier. That's where INNOluxe V2 comes in. Its ground-breaking repair technology strengthens your hair while it's being bleached, and healthy, strong hair means you can take the blue to a higher intensity. Ask your colourist to include INNOluxe in your colour and you'll be amazed by the difference it makes!
Plus, when you colour your hair, it always looks best when it's shiny and sumptuous – and INNOluxe is a miracle-worker at making that happen. Sophia Hilton, INNOluxe brand ambassador and founder of Not Another Salon, tells us you can often get away with bolder, more "un-natural" colours than you might think in the workplace, as long as you look after its condition:
"There are a lot of jobs out there that, with a bit of thought, you can totally pull it off… your colour needs to be immaculate, healthy and expensive-looking. You need to look like you are committed, invested and professional."
Blue Hair needs Maintenance
Yep, keeping blue hair from fading takes work, but it's worth it.
Turning down the heat when you wash your hair will help maintain your colour for longer, as will washing with products which are free of sulphates and sodium chloride. And working 1-2 drops of Elixir V2 through your locks after each wash (or 3-4 drops through dry hair each night before bed) will top up on that salon goodness – keeping your hair healthy, gorgeously soft and shiny.
Longer-term, you might want to head back to the salon every few weeks for a Stand-Alone treatment, keeping your hair in immaculate condition between colour treatments.

Share your Blue!
Whether you're a trendsetter who'd already gone for a Classic Blue before Pantone's announcement, or you prefer a different hue, tag your locks on Instagram with #INNOluxe #SAVED to share your blue with the world!
Image by @chairsalons