Salon of the Month
"I get to paint hair awesome colours for a living -What could be better?!"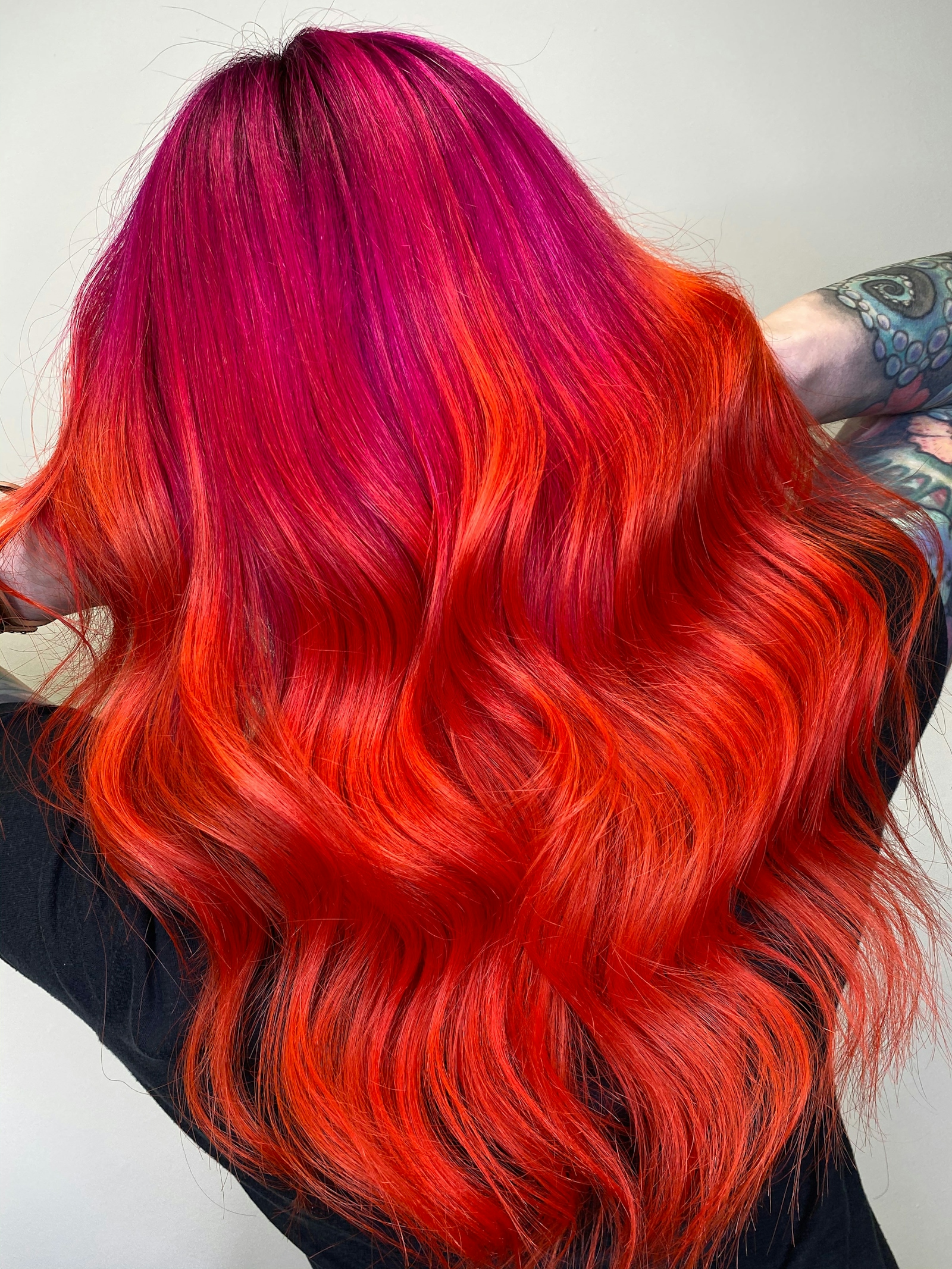 This month we're chatting to Kelsey, and it's safe to say she LOVES her job! Originally from Belfast in Northern Ireland, Kelsey is a self-employed hairstylist, and she's currently working at Ritual Salon in Seaham, County Durham. Let's find out more…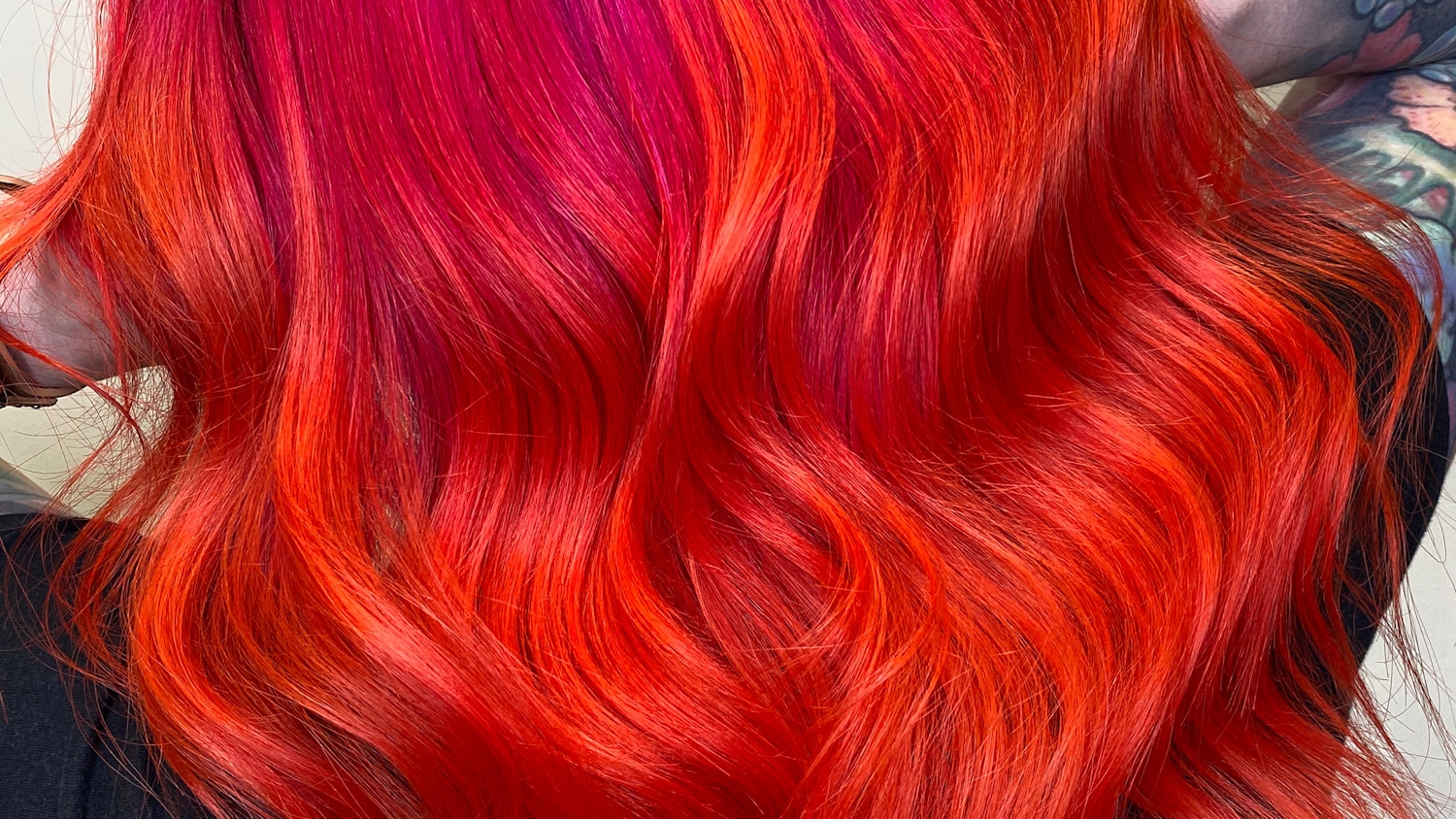 Hi Kelsey! Thanks for chatting with us. Tell us a bit more about what you do?
Hi INNOluxe!! I'm a colour specialist (my work tends to be boujee, glossy and bold!) and I have a strong focus on healthy hair care. I don't think any hair colour is worth having if the health of your hair is heavily impacted during the process.
Vivid colour wasn't really a big thing when I was training so most of my confidence with working with bright colours has come over time, with the trial and error of playing with my own hair. I've been every colour of the rainbow in my 28 years, from yellow to lime green (plus a pink and lime green mullet when I was 16), so being platinum blonde at the moment is pretty tame for me!

You've picked a pretty head-turning vivid to share with us today! Tell us a bit about it?
This is a vivid colour melt I created on my lovely client, Zoe. Zoe's hair is amazing now compared to when we had her first consultation, and that's all thanks to INNOluxe Elixir V2, which she's been using at home religiously.
Elixir V's got to be my favourite INNOluxe product! It's like having a little bit of the salon at home with you every day. I love that it's multi-purpose and can be used before styling or as an overnight sleep-in treatment. I've been using Elixir for 4 years and I can happily say your hair will only keep getting better and better with each use.

Thanks for the Elixir love! We reckon it's a bit of a game-changer. Tell us more about how you achieved Zoe's look?
Well Zoe is naturally super-fair, so I lifted her roots with lightener + low volume developer + INNOluxe ReBond V2, rinsed once it had developed and applied my 3 colour blend. I then condition with INNOluxe Balance Plus V2 for 10 mins and add a complimentary head massage (obviously!) before styling with INNOluxe Elixir V2.
INNOluxe is my secret weapon for achieving the super-high shine gloss finish that all my clients love! When I showed Zoe the finished photos of her hair she said "Oh my god! I never thought I'd have hair like all those cool girls on Instagram." YASSS GIRL, you have the coolest hair ever!!

Working in the hair industry is amazing but it can be tough, too. What's the hardest thing about your job?
Never having time for lunch! But hey that's what coffee's for – the hairdresser's best friend! It's all worth it, though, because I get to paint hair awesome colours for a living – what could be better?!
Seriously though, the hardest thing has got to be that my clients think I'm actually a wizard! Honestly, we live in this Instagram era where we see celebrities changing their wigs every 5 minutes for another new selfie post, so it's up to us as hairdressers to educate them on what's really achievable if they want to jump from colour to colour.
All my clients do totally get this, thankfully. I also always make sure to have a full consultation with them every time they're in my chair so they know what I need them to do at home to keep their hair in top condition.

There's a shiny new year approaching fast, so what do you predict will be massive in the world of hair colour for 2021?
I really feel like 90s vibes are here to stay. Everyone just absolutely loves a money piece, so I'm thinking a lot more adventurous panelling in the future. And I've had a few clients with super-bright hair asking for a stand out black streak, which I think looks unreal next to a vivid colour like an orange or pink
I also think our skills as hairdressers are constantly growing and, with the help of products like INNOluxe, our ability to create a healthy blonde canvas is getting easier – so I don't think the Nordic white, icy platinum vibe will be going anywhere fast.
And looking a bit shorter-term – tips for Christmas styling and keeping hair in check as the chill sets in?
I'm not a big fan of the cold, especially up North. I recommend adding a mask to your hair care regime once a week (gotta keep those coloured locks hydrated) and trying not to over-wash your hair as you're only stripping out more moisture. Instead, embrace dry shampoo life, add a cute hairband, enjoy the texture for a couple of extra days and check out how much longer your colour lasts, too.
And for Christmas, I love a soft, lived-in beach wave – it looks great on any colour. Or, if you like dramatics like me, a sleek high ponytail Ariana Grande-style. Definitely something I can shake around on the dance floor!

Finally, what's next for you?
First of all, I'll be catching up with all my clients and their roots after the latest lockdown! And then I'm hoping that next year we can all go back to attending hair shows and get creative on stage again. I'll definitely also be checking out some new colour education and hopefully figuring out how I can make some hair videos for my Instagram.