Repair and condition at home
Homecare Ranges
With #SAVED and PLATINUM, you can carry on the INNOluxe way
every single day.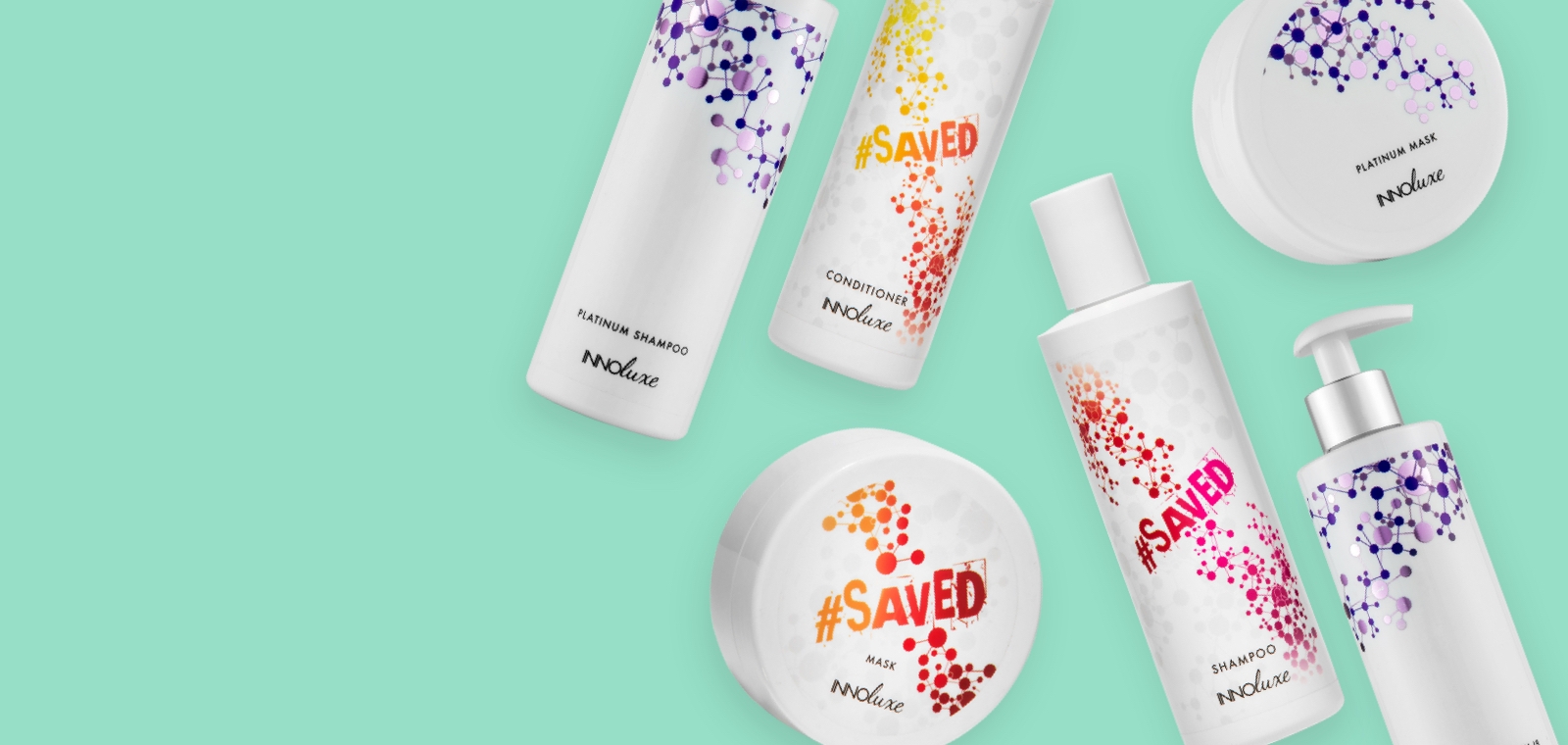 Unleash your hair's potential
with our sodium chloride and sulphate-free homecare products. Designed to support our in-salon treatments and perfect for all hair types, you'll enjoy smooth, hydrated and strong hair with long lasting results.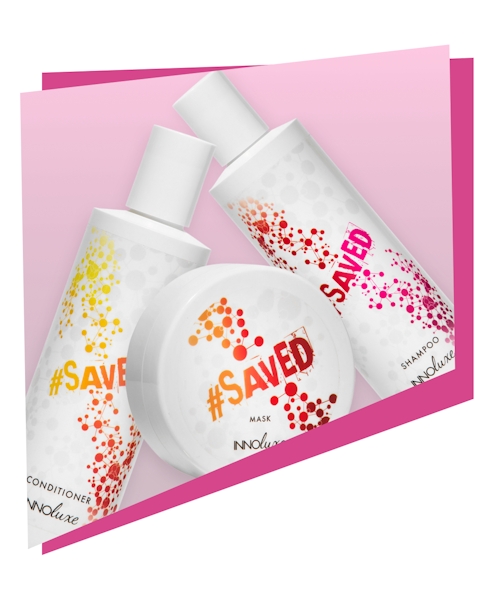 #SAVED Range
Self-care for your hair.
A cleansing ritual that locks in your colour for longer and makes
your hair look and feel in-cred-ible.

#SAVED Shampoo
Enhances your colour, nourishes, strengthens and leaves your hair shiny and silky.
#SAVED Conditioner
The helping hand coloured hair is crying out for. It keeps your colour rich, conditions, detangles and adds even more shine.
#SAVED Mask
Extra nourishing. Extra clever at boosting colour. And extra good at adding the shine and softness that tell you your hair is healthy and nourished.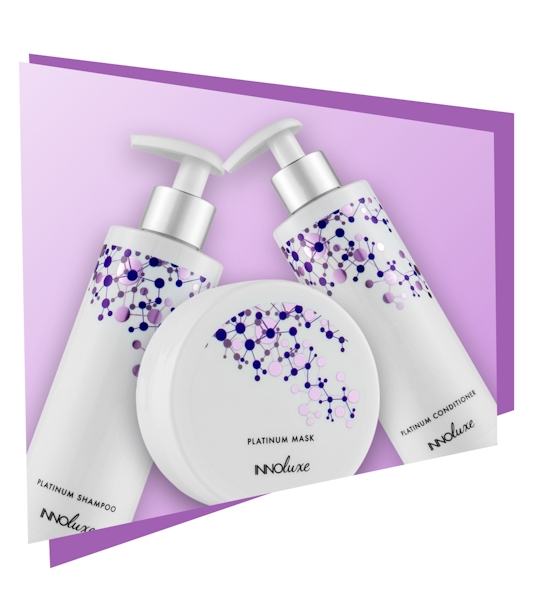 PLATINUM Range
Colour technology that keeps blonde, ash, grey and white tones chilled? Check.
Deeply nourishing and conditioning? Check.
PLATINUM Shampoo
purple pigments cool off yellow tones. Free of sodium chloride (salt) and sulphates, the shampoo also strengthens, hydrates, thickens and boosts shine!
PLATINUM Conditioner
violet tones neutralise pesky yellow pigments, while its lightweight formula nourishes, strengthens, moisturises and builds shine.
PLATINUM Mask
is our sumptuous, deep blue showstopper! This is a deeply nourishing, mud-like treatment that enhances and seals in goodness, as well as neutralising lingering yellow and orange pigments.
Can I mix and match the ranges?

Absolutely. You can mix and match #SAVED (for colour saving) and PLATINUM (for toning) products and still use Elixir every day for repair at home.


Why should I use INNOluxe homecare after a treatment?

Elixir V3 and our luxurious #SAVED & PLATINUM Homecare have all been developed to maximise your hair's strength, softness and shine. Our products are all sodium chloride and sulphate free (two ingredients known to strip health from hair) and leave hair looking and feeling amazing.


How often should I use the masks?

We recommend using our Masks once a week, although they can be used more often.

Can i use the products if I haven't had a treatment?

Absolutely, our shampoos are gentle enough that they can be used every day on all hair types. Both our #SAVED & Platinum ranges are super luxurious so great for everyone and Elixir V3 strengthens and repairs all hair types.


How do i know which range is best for me?

#SAVED is our super luxurious colour saving range which maximises colour longevity, shine and tone. Platinum is developed for cooler blondes and is also perfect for everyone else who wants to neutralise warmth in their hair..


What's the difference between the conditioners and masks?

All our conditioners and masks are lightweight and add shine and softness. #SAVED and PLATINUM Masks are usually left on for longer (from 5 minutes) and deliver extra strength, softnesss and shine.


What's the difference between #SAVED and Platinum?

Our PLATINUM range has been designed to neutralise warm tones in the hair and #SAVED has been developed to maximise colours longevity. Both ranges are sodium chloride and sulphate free and leave the hair looking and feeling amazing

Check out our other treatments
Find your nearest INNOluxe salon