"There's zero point in achieving the most beaut hair colour if its hanging by a wisp..."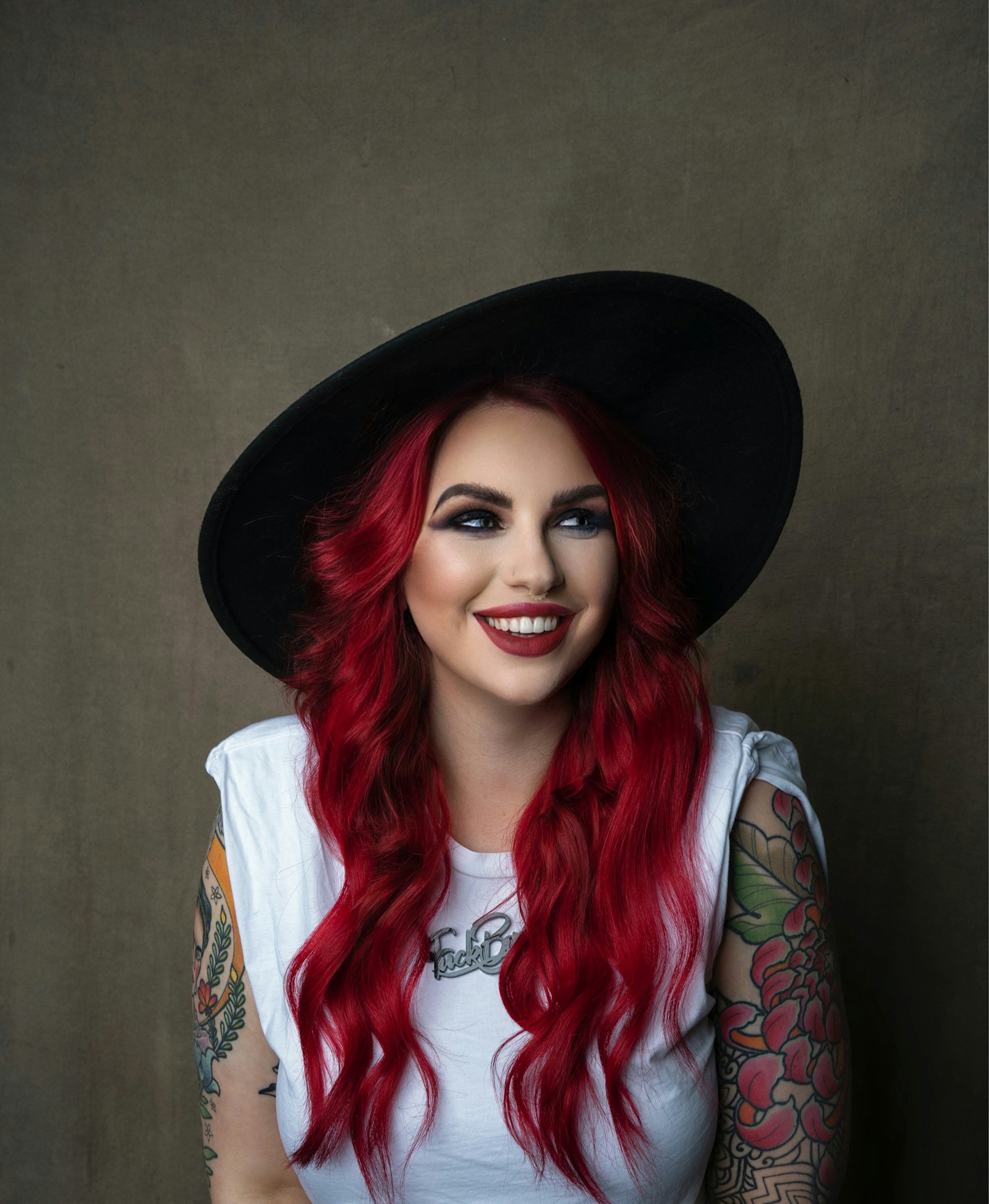 Meet our newest INNOluxe SuperStar, Kayleigh Dixon AKA The Hair Witch! Kayleigh works as a freelance stylist in Manchester, mostly based at the Red Angel Hair Company, and we're just a teensy bit excited to have her on board. We caught up with her about everything from a love of Barbie to not being a fan of kids, via dreadlocks and goths… Here's what happened.

Hi Kayleigh! Thanks for catching up with us. We LOVE that you brand yourself as The Hair Witch so let's kick off with finding out a bit more about how that all happened?!
Hey INNOluxe! So, I brand myself as The Hair Witch mostly 'cause I'm a little bit of a goth and love that whole witch aesthetic (mixed with shocking pink because I'm also a huge fan of Barbie).
I love creating big colour and cut transformations and everyone used to say it was 'like magic'. I wore black 99.9% of the time and love a hat… so I became a witch. I call my squad of clients my coven and get them all to use the hashtag #hexedbythehairwitch to see what I've been up to, and I call the little room I rent 'the witches den'.
"Big bleach transformations have my heart"
What is it about working with hair that makes your heart sing?
I love all things hair colour, but big bleach transformations have my heart, especially when it's teamed with blocky vivid colour and fun haircut!
I really love giving people the hair that matches their personality particularly if that person has never had the confidence to let that side of their personality shine through before. This is the first step to being your own kind of beautiful.
Which brings us to the lovely Zoe. She's always danced but has in the past been repeatedly told that any non-natural hair colour is 'tacky' and would lose her bookings. She's recently set up her own dance company and embraced colour in her hair like she's always wanted to. She cried so many happy tears it made my heart soar! We used INNOluxe every step of the way which is why we managed to keep all the length and condition.
"Too academic to waste it on hair"
Let's go back to the start… Tell us how you got where you are today?
I wanted to be a hairdresser when I was in school but I kept being told that I was 'too academic to waste it on hair'. So, I did A-levels and went to university and spent four years training to be a primary school teacher… and discovered I don't really like kids.
Long story short, when most of my uni pals were applying for jobs in teaching I started applying for apprenticeships in hairdressing. I spent my first year of my apprenticeship at a local salon then decided I wanted to learn from the best and applied for an apprentice position at Ethos Manchester, learning under Sharon Peake who worked me hard but taught me well.
I love attending courses and I'm constantly watching videos, tutorials and coming up with new ideas to try and think of new ways to colour hair, some of them work, some of them need adapting and some ideas completely flunk! That's part of the job though – never stop learning and investing! You're only as good as your last hairdo.
"If the condition ain't there, the hair colour is gonna look whack no matter what"
What is it that draws you to INNOluxe over other brands?
I love using INNOluxe – it means that a client's dream hair is a total possibility whilst still maintaining the condition and shine.
Ultimately that's what's most important. There's zero point in achieving the most beaut hair colour ever if it's hanging on by a wisp. If the condition ain't there, the hair colour is gonna look whack no matter what.
My friend had dreadlocks in recently and we did a few colour changes while she had them in. Take a look!
Let's finish with a few quick and dirty questions, starting with "it really grinds my gears when…"?

It really grinds my gears when people say bleach is bad or dangerous for your hair. This is only the case in the wrong hands. With the right stylist bleach can be the best thing that ever happened to your hair giving you the dream colour and texture!
What about your biggest WOW moment (so far!)?
My biggest WOW moment was becoming a finalist at the 2019 British Hairdressing Awards for North Western, it was the only time I've entered and I'm still in shock that I was a finalist.
And to finish up, "in the future I'd like to…"?
Hmmm... maybe post-pandemic to do more photographic work and enter more competitions. And if I enter them, I wanna win!
Thanks so much Kayleigh – we can't wait to see how you keep pushing those boundaries with the help of INNOluxe!
You can (and totally should!) follow Kayleigh on Instagram!