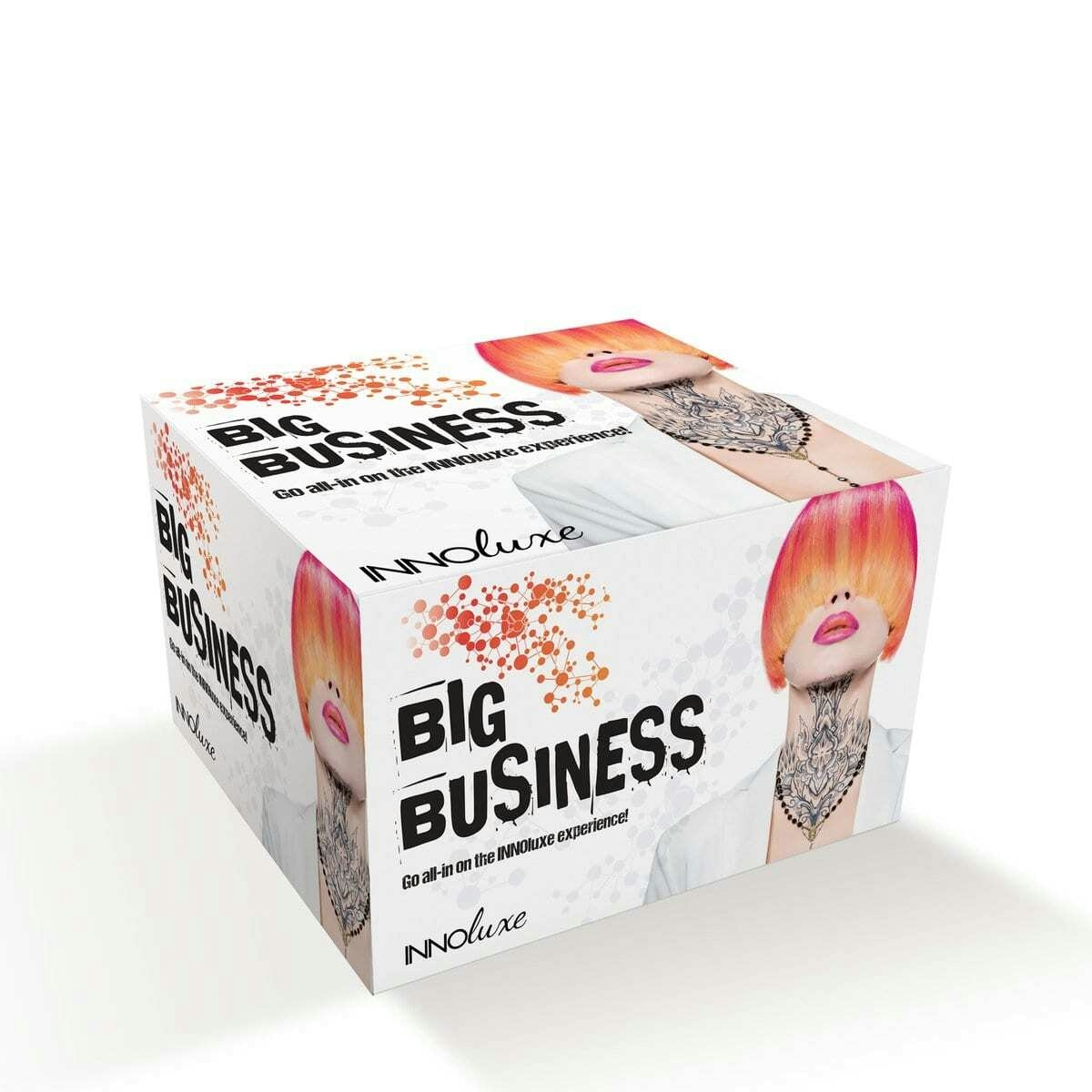 Big Business
This product is for professionals only. Either register or sign in with a pro account to purchase this product.
Sign in / register
(You save £175.66)

Go all-in on the INNOluxe experience!
The Big Business Pack is designed for salons who want to give their clients the full INNOluxe experience! You'll get everything you need to treat your clients to the very best that the brand has to offer, including our world-leading bond-builder treatment to use with colour or technical services, our Stand-Alone treatment and the full retail experience. What are you waiting for?!
What's in the pack?
The Big Business Pack contains everything you need to offer INNOluxe with colour, technical services or as a Stand-Alone treatment in-salon:

1 x INNOluxe ReBond V3 500ml
1 x INNOluxe Balance Plus V3 1000ml
1 x INNOluxe Purify 500ml
1 x INNOluxe Foam V3 200ml
12 x INNOluxe Elixir V3 100ml (can also be used for retail!)
PLUS!
For retail:

6 x PLATINUM Shampoo 250ml
6 x PLATINUM Conditioner 250ml
6 x PLATINUM Mask 150ml
6 x #SAVED Shampoo 250ml
6 x #SAVED Conditioner 250ml
6 x #SAVED Mask 150ml
And Included absolutely free:

1 x PLATINUM Shampoo 500ml
1 x PLATINUM Conditioner 500ml
1 x PLATINUM Mask 500ml
1 x #SAVED Shampoo 500ml
1 x #SAVED Conditioner 500ml
1 x #SAVED Mask 500ml
INNOluxe Apron
Instruction Poster
Reviews
Shipping & Returns